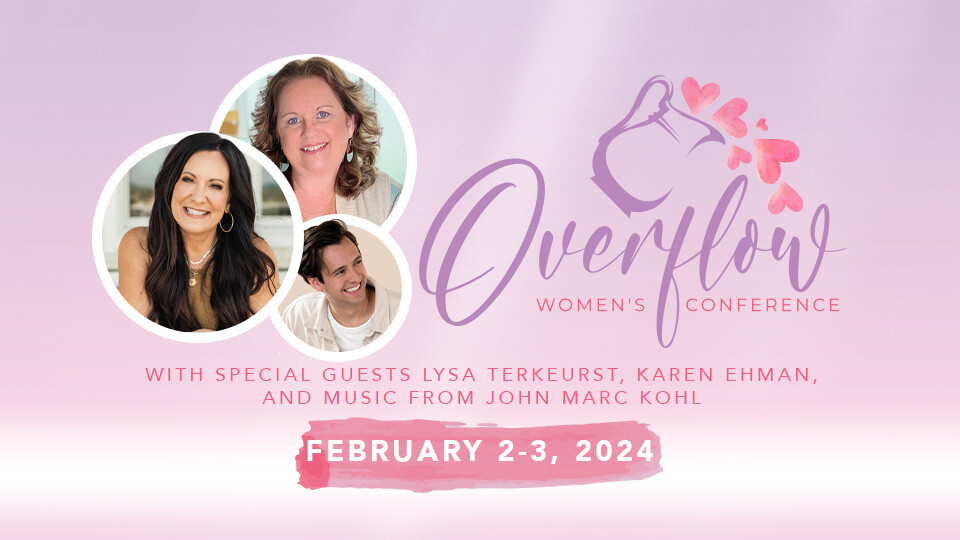 Friday, February 02, 2024 - Saturday, February 03, 2024
February 2-3, 2024
Lysa Terkeurst and Karen Ehman are joining us in Jackson, MS for the first annual Overflow Conference on February 2-3, 2024. We hope you'll join us for a time of worship with John Marc Kohl and teaching from these two dynamic women! Read more about our hosts below.
Friday // 7:00pm - 9:30pm
Saturday // 9:00am - 12:00pm
Pricing:
$55 per person // $45 group rate per person
*Group Rate is for groups over 10 people or more
Christ United Methodist Church
6000 Old Canton Road
Jackson, MS 39211
Lysa Terkeurst Bio:
Lysa TerKeurst is president and chief visionary officer of Proverbs 31 Ministries and the author of six New York Times bestsellers, including Good Boundaries and Goodbyes, Forgiving What You Can't Forget, and It's Not Supposed to Be This Way. But to those who know her best, she's just a simple girl with a well-worn Bible who proclaims hope in the midst of good times and heartbreaking realities.
Lysa loves spending time with her family, playing (and often winning) new board games, studying God's Word, and pursuing healing with friends like you. You can learn more about Lysa at lysaterkeurst.com.
Karen Ehman Bio:
Karen Ehman is a New York Times bestselling author, a Proverbs 31 Ministries speaker and a contributing writer for Encouragement for Today online devotions, and a teacher in the First 5 Bible study app which has over 2 million daily users. She has written 18 books and Bible studies including Keep It Shut: What to Say, How to Say It, and When to Say Nothing at All and the 2020 ECPA devotional book of the year Settle My Soul: 100 Quiet Moments to Meet with Jesus. She is a Cum Laude graduate of Spring Arbor University with a major in Social Science. Karen has been featured on TODAY Parenting, Redbook.com, Foxnews.com, Crosswalk.com, YouVersion.com, and is a monthly columnist for HomeLife Magazine. Her passion is to help women live their priorities as they reflect the gospel to a watching world. She is married to her college sweetheart, Todd, and is the mother of five children—three biological and two in-laws by marriage—although she forgets which ones are which. Karen enjoys collecting vintage Pyrex kitchenware, cheering for the Detroit Tigers, and spending her days feeding the many people who gather around her mid-century dining table to process life and enjoy her county fair blue-ribbon winning cooking.