Lent 2023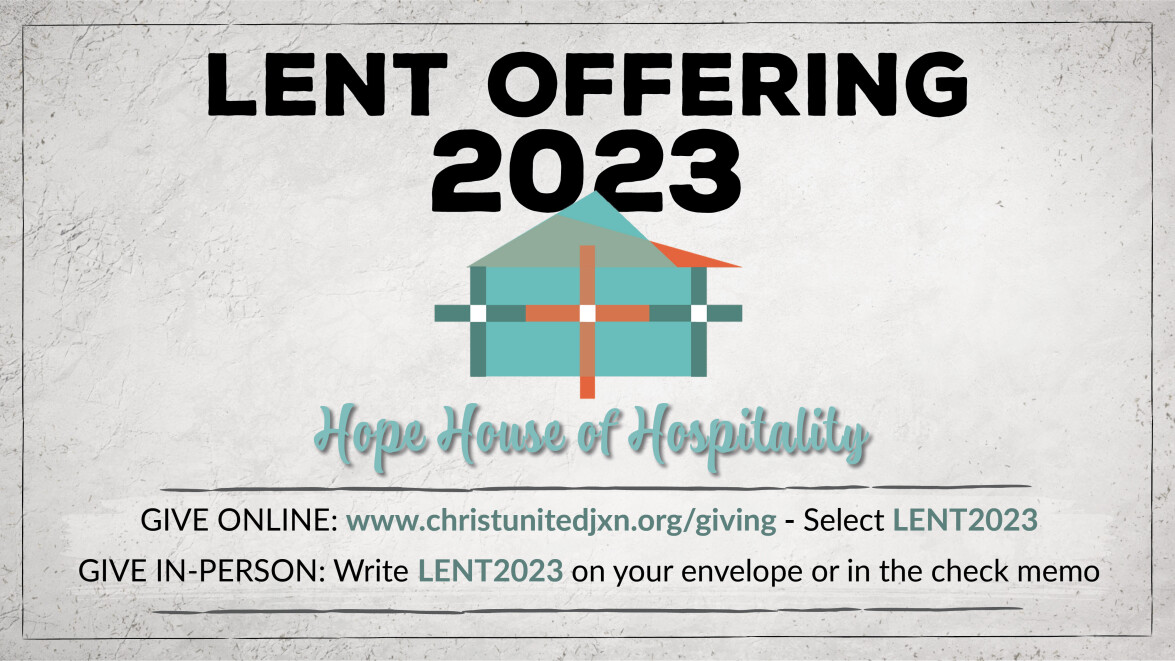 Every Lenten season, our church supports one of our mission partners, and this Lent, we are supporting Hope House of Hospitality. Hope House has been living by their mission to be a home away from home for outpatients receiving cancer treatment in Jackson area hospitals since 1985.
HOW DOES HOPE HOUSE WORK?
Outpatients are referred by doctors or social workers to come to Hope House. Outpatients stay with Hope House to offset the costs of travel, housing, and food. Sometimes their stay in the Jackson area can be as long as three months for cancer treatment. These guests of Hope House have come from Alabama, Louisiana, and Mississippi spending what they have just to get here for treatment.
If the guest is a patient of St. Dominic's or University of Mississippi Medical Center, the guest will have transportation to cancer treatments Monday through Friday. However, if it is a patient of Baptist Hospital, then Hope House must drive them to all treatments weekly.
When guests are at Hope House, they can enjoy taking a walk, watching television, exercising, reading a book, and other various activities. Most importantly, they get to spend time in fellowship with each other. It is a lonely place to battle cancer away from home, but they have a community of people who are all going through the same thing.
WHO ELSE IS LIKE HOPE HOUSE?
We have known Wanda, the Executive Director of Hope House, and her Guest Services Coordinator, Mia, for about 5 years now, and it is clear that they have a heart for their guests. Outside of the American Cancer Society's Hope Lodge, there is no other place like Hope House where an outpatient can come to a Jackson area hospital for treatment and have meals, transportation, and housing. Hope House stands apart with only the support of donations and community contributions.
HOW CAN YOU HELP?
In Matthew 25:35, Jesus says, "For I was hungry and you gave me something to eat, I was thirsty and you gave me something to drink, I was a stranger and you invited me in."
Wanda and Mia have both been trying their best to live that verse—Wanda since 1992 and Mia since 2001. The goal for this Lent season is for us as a church to come alongside what they are doing. Hope House needs a more reliable van than they currently have to take their guests to daily treatment. Their driveway needs some love, and they could use a new chain-link fence.
This Lenten season, you can give to our Lent Offering to support Hope House. We are trying to raise $30,000. If you want to invest in Hope House, you can click on the following picture to give online or you can write LENT2023 on your envelope or check. In whatever way you give, know that you are helping those who are hungry, thirsty, and who may be strangers to us but are no strangers to Jesus. Thank you in advance for your generosity, Church family!
WHAT DOES HOPE HOUSE NEED?
1) VAN - Their current van 2006 Ford Windstar has 125,576+ miles. This is the main source of transportation for cancer patients to and from their doctor appointments.
2) DRIVEWAY - Needs major repair. There are large potholes from the back gate to 1/4 of the way up to the house which makes for difficult travel.
3) FENCE - They would like to complete their fence along the back of the driveway/backyard/along the back side to the front. They have had some security issues that these fences would help resolve.